GG Network (which is represented by PokerOK at our website) is amongst most actively developing poker networks. They reached top-3 position in traffic and constantly improving their software. So far they've came up with pretty unique features like all-in insurance, bubble protection in MTTs, service called PokerCraft, which allows you to see your poker stats like VPIP, PFR, etc., and they also recently implemented tournaments staking function.
What is staking?
Basically, staking is a tool for players and backers (stakers) to increase their EV. You have enough skill to show a good ROI in high buy-in MTTs but don't have bankroll to play them? Or you have enough bankroll to invest some part of it in a promising player? Than you need to look into staking. GG Network allows you to start using staking in Freezeout tournaments right in the poker client.
Here is some important info on staking in GG Network:
There is no fee for staking;
It's not available for tournaments with rebuys and add-ons;
Seller can't sell shares after start of the tournament;
Seller can cancel the sale before start of the tournament;
Buyer can't cancel purchase of share (unless tournament is canceled) and money will be deducted from buyers account immediately;
Your share of winnings will be paid out automatically at your account.
Player's profile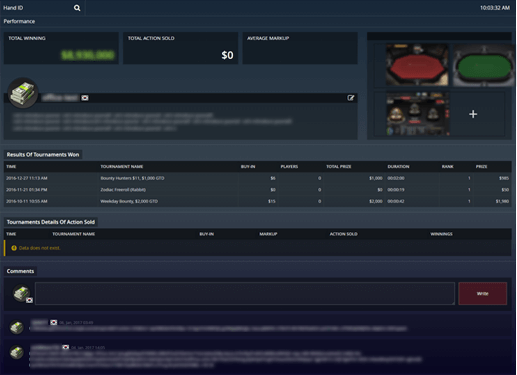 Players can set up a profile page with information like their total winnings, ITM %, how much tournaments they've played, etc. They can also show their tournament and staking history. There is also a comment section, where player and backers can leave comments on their partnership.
How to start playing?
If you wish to start playing at PokerOK with 50% rakeback, contact us via Skype (our login is smart-poker.ru).
Комментариев пока нет. Будь первым!